Farm weddings have become more popular in recent years as they provide a fun, quirky wedding venue with unique features. The Wellbeing Farm in Edgworth, Lancashire is one such venue and, as a professional wedding photographer, it has caught my attention. I want to shoot as many weddings there as possible! Once the world returns to normal that is…
Documentary Style Wedding Photography
Farm weddings are ideal for couples who want a rustic and less formal setting, and this suits my photography style down to the ground. I am one of those wedding photographers who uses a documentary or reportage style of photography. This means that your day is captured with as little interference from me as possible – no forced poses or intensive portrait schedules – just a focus on real, spontaneous moments. You can see me as one of the guests with a camera, rather than a wedding photographer. My wedding photos show people laughing, having a good time and very often being silly!
Four-legged Friends…
The Wellbeing Farm offers great features to flavour your wedding photos. When I have the opportunity to photograph a wedding there, you can bet that I will be featuring my couples with the resident donkeys, alpacas and llamas. These guys are one of the main attractions of the venue and will be dressed to impress on your wedding day, complete with flat caps and bow ties! Speaking of four-legged friends, The Wellbeing Farm is a dog-friendly venue, so your well-behaved pooch is welcome to enjoy the day with you.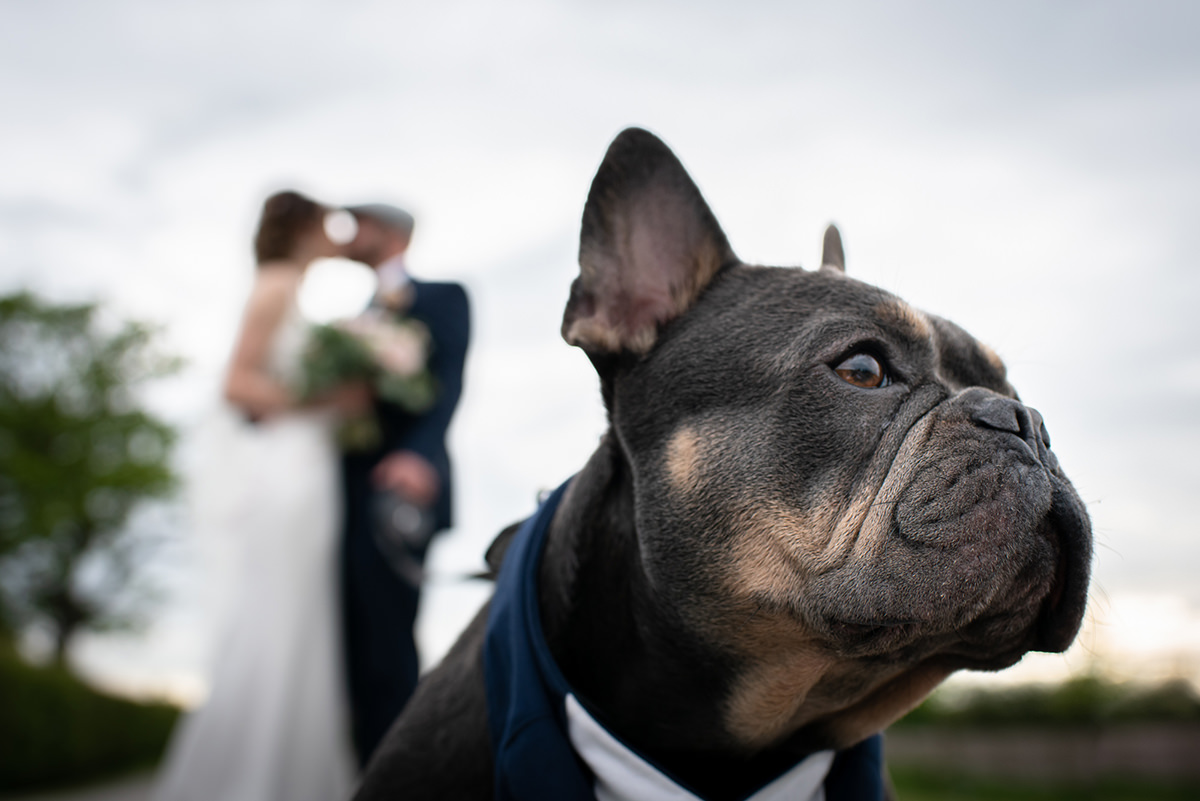 With a clear passion for animals and for the Environment, the Wellbeing Farm has made the pledge to combine the words sustainability with party!
Green Weddings
For couples who want their ceremonies and receptions to be as Green as possible, this wedding barn promotes environmentally friendly weddings. They reuse and upcycle as many things from previous weddings as possible, giving couples unlimited access to their 'Prop Shed' where they can select and create unique decor for free.
Another feature is the wedding barn's no plastic or single use cutlery policy, replacing their supplies with reusable or biodegradable items. Their Carbon Footprint is a priority too and all the food you eat is produced locally to reduce this right down, with the aim of becoming carbon neutral in 2025. Not only this, but any suitable leftovers will be given to various charities and the resident donkeys and llamas will also help with the fruit and veg!
Having experienced other environmentally conscious wedding venues like the Wellbeing Farm before, I find they provide a relaxed and friendlier atmosphere. You could say they have that down to Earth feel!
Another benefit of wedding barns is that they allow couples to stamp their own style on the venue by offering a blank canvas for personal DIY touches. Although I have yet to tick off the Wellbeing Farm on my list of venues, I have photographed many barn weddings and couples who have taken advantage of this opportunity.
Here are 9 tips for organising your farm wedding with a selection of my photographs to show you the possibilities and my work:
Quick look at…The Wellbeing Farm
Venue Type: Wedding barn
Location: Edgworth, Bolton Lancashire
Features:
Onsite accommodation which includes The Farmhouse
Eco-Friendly Business
Resident animals, including llamas!
Prop Shed of reusable items for decor and entertainment
Ample free parking
Number of guests:
170 guests seated in the main Wedding Barn or 300 people unseated.
A Perfect Wedding Venue for…
A quirky fun wedding with DIY touches. Great for distinctive wedding photography which is full of charm and personality.
9 Tips for Organising your Farm Wedding
Think about your Wedding Dress
If you're a Bride considering a farm wedding, you might want to choose a dress which is practical for the occasion, especially if you'll be spending some time in fields! A shorter style and some back up wellies might be good options.
Get a Team Together
A farm wedding can offer couples a DIY option when it comes to decorating but recruiting friends and family as helping hands to help with the set up. This extra time with each other to prep for the Big Day makes the celebration more special.
Get Creative with your Lighting
When it comes to decorating wedding barns, hanging fairy lights can create an atmospheric and magical setting for you and your guests. The more the merrier! Especially around the dance floor.
Inject some Creativity into your Decor
Embrace the farm wedding vibe by choosing fun, rustic decor. Try hanging bunting, using straw bales for seating and don't be afraid to make use of resident tractors to liven up your wedding photography.
Pick Flowers to Suit the Venue's Style
Choosing simple wild flowers and herbs can create beautiful bouquets and table decorations. Using jam jars instead of ornate vases can add a rustic touch too.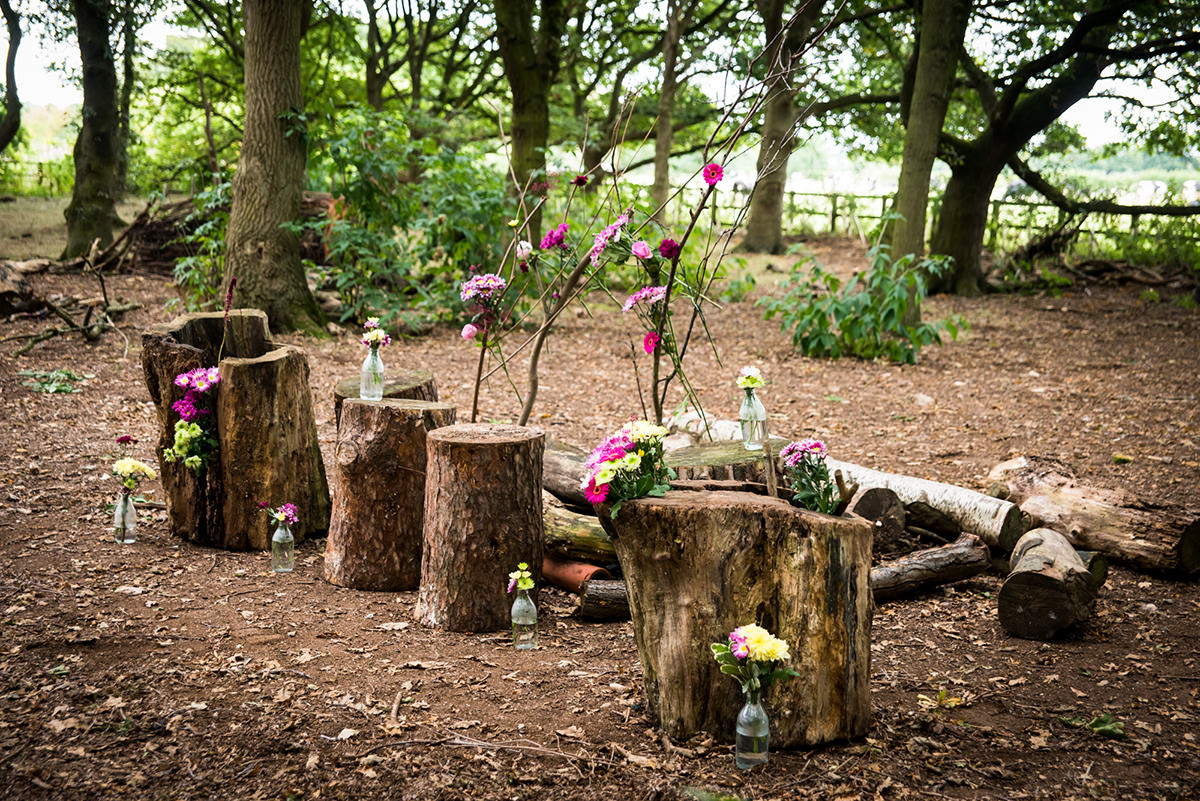 Theme your Tables
As well as flowers, consider using natural materials to enhance the look of your table settings. Ditch the formal table cloths and pick wood logs and tree slices as unique centrepieces.
Enjoy the Fresh Air
A farm wedding can accommodate an outdoor ceremony for couples (weather permitting!) Places like the Wellbeing Farm can offer Tipi hire to accommodate any rainy days and provide a unique chill out area for guests in the evening.
Fun and Games
Make full use of the grounds and space for fun activities. For example, a Wellbeing Farm wedding can provide you with old school party games like giant Connect4 and Jenga.
Get Close to Nature
If your wedding venue features animals, they are great to include in your wedding photography (also great fun for your wedding photographer) but make sure to be respectful to them and their environment. Anything you leave behind must be biodegradable including your choice of confetti. Use dried flower petals or birdseed as a stunning alternative.