It's stylish, it's quirky, it's unique, it's Larkspur Lodge in Knutsford! This is a wedding venue I have wanted to visit for a long, long time. As a wedding photographer, I'm always looking for dramatic and interesting backdrops for my wedding photographs and Larkspur Lodge's original features such as bare red brick walls and exposed timber across the ceiling really sold it to me. The venue has truly put time and thought into all of their spaces from the Bridal Prep Room, to the garden and the ceremony room – this really is something else too (more raving about that below!) You can imagine how excited I was when Ash and Tom booked the wedding venue and me as their wedding photographer this summer.
The Bridal Prep Room
Ash started her wedding day with bridal prep in Larkspur Lodge's on-site room meaning that she and her bridesmaids could get ready and relax at the same time. No better way to start the day than with a pamper and a glass or two of pink fizz. Joseph the page boy also spent some time in the room, getting his hair done and outfit together to look dapper for the occasion.
Speaking of dapper, the first thing groom Tom bought for the wedding was his shoes. He loved them so much that he had his wedding suit tailored made to match them. Their great taste in wedding venue and their flawless fashion choices just goes to show what a unique and stylish couple Ash and Tom are!
The Ceremony Room
When Ash and Tom were planning their wedding, it was Larkspur Lodge's ceremony room that swung it for them. This space is such a magical and romantic place for a couple to say their "I do's". There are fairy lights hanging from the oak beams, trees lining the tiled aisle and candles lighting the way – it makes for stunning wedding photography. Ash and Tom's dramatic setting was lovingly decorated by the team from Knutsford Bloom who created an incredibly romantic atmosphere for the ceremony. Another unique and retro feature to the room are the old theatre seats which surround the room, letting guests face in to watch the happy couple say their vows rather than stare at their backs for the entire ceremony.
The Lodge
Larkspur Lodge is one of those wedding venues which doesn't need much added to it for it to look incredibly stunning. Ash and Tom wanted quirky and vintage decor for their reception which was created with a combination of foliage and many, many glasses filled with candles and tea lights set on tables with fresh, bright white linens. Some hanging vintage lightbulbs were added behind the top table to compliment the look with warm lighting. As I say, you don't need to add much to The Lodge to make it stunning but you can add whatever you want to make it personal. One of my favourite touches was the special wedding favours the couple chose: individual Krispy Kreme doughnuts at the tables. The bride's favourite!
Fire Engine Food and Fun
Another personal and unique touch was in the couple's choice of evening food: wood fired pizza cooked in a vintage fire engine! This was yet another amazing backdrop for me to use in my wedding photography and I really recommend that couples who are planning to get married should think about how other aspects of their day such as wedding transport, caterers and landscapes can enhance their wedding photography. The retro fire engine served the wedding guests artisanal, individual pizzas which fired them up and gave them the energy for the wild party later.
The evening do took place back in the Lodge with tables cleared for the dance floor and lighting dimmed for atmosphere. Ash and Tom had learned a routine for their first dance which was rehearsed to a certain point and then they improvised and let themselves go! When it was time for everyone to join in, the pair had booked a solo saxophonist to play and spin around the wedding guests as they made moves and threw shapes across the space. Everyone got involved from flowers girls to the Grandma of the bride! My first wedding at Larkspur Wedding Lodge was certainly memorable thanks to this fun loving and classy couple. I'm looking forward to the next one.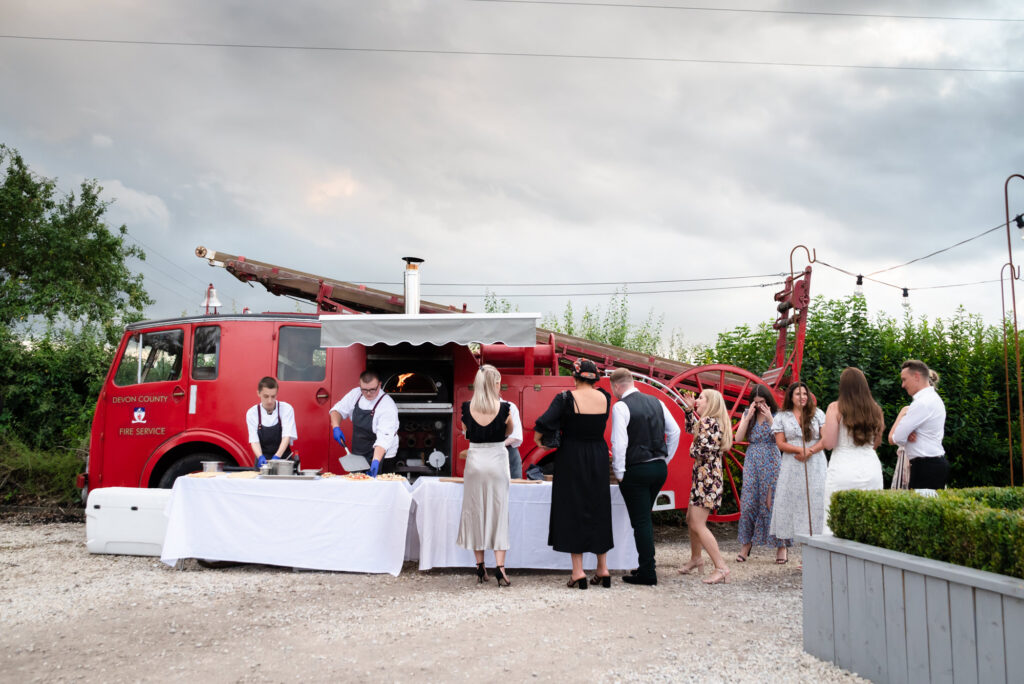 ---