I can't tell you how thrilled I was to go back to Merrydale Manor for Shamane and Brett's family-orientated and vibrant wedding. A few years ago, I was there to photograph the first wedding when the Merrydale Manor's doors opened for the first time and it's still the versatile and contemporary wedding venue I remember.
As the wedding photographer for Shamane and Brett's Afro-Caribbean wedding at Merrydale Manor, I had the pleasure of capturing and experiencing the beautiful and intimate moments of their special day as well as the unique cultural and personal touches they chose to make the day a true expression of who they are as the happy couple.
Shamane and Brett knew exactly what they wanted for their beautiful Wedding Day. After Brett's proposal, a surprise amidst the joy of a baby shower, they got stuck in to put together a list of their favourite venues. The first requirement was to have everything from the morning's preparations with the Bridal party to the evening reception with 200 of their friends and family in one place. So they took a look on Hitched in search of their perfect venue to make their wedding plans exactly what they wanted. Soon after, they booked Merrydale Manor in Knutsford. This venue is the sister venue to Colshaw Hall and managed by the same talented team.
Bridal Preparations in the Manor House
The festivities began early in the morning, as Shamane and her bridesmaids gathered in the magnificent Manor House for their bridal preparations.
The Makeup Suite in the Manor House is a stunning and luxurious space, perfect for creating the ideal backdrop for the bride's preparations. The soft neutral tones and spacious layout surrounded by brightly lit mirrors added a bit of glamour and wow factor to the room.
I could feel the excitement in the air as soon as I walked in. Shamane was surrounded by her closest friends and family, who were all buzzing for the day ahead as they had their hair and make up done.
Shamane's wedding dress was nothing short of exquisite. She had chosen an elegant and timeless design by Ronald Joyce. The dress was a champagne blush colour with delicate white lace overlay which perfectly complemented her radiant complexion and choice of hairstyle. When Shamane made her reveal in this gown, the room was appropriately filled with gasps of awe and admiration. Dress reveals always make for an emotional moment and amazing wedding photographs!
Groom Prep in The Cave
It wasn't only Shamane who had the perfect setting for her pre-wedding preparations. Merrydale Manor has contemporary spaces which are equally special for both the bride and the groom.
Brett could also enjoy his own unique space to prepare for the day's festivities. The Cave, situated on the periphery of the estate, is a vintage-style, lux room with leather seating which offered Brett and his groomsmen a private oasis to relax in, complete with a pool table, arcade machines and table football. Brett even had a pre-ceremony haircut, courtesy of his personal barber who was among the guests. All of this added to the chilled vibe before the wedding celebrations kicked off and the wedding guests arrived.
A Personal Ceremony
The wedding ceremony was a tapestry of personal touches and special moments which gave me so many fabulous photo opportunities. One of the highlights of the ceremony was when the couple lit three candles, each representing Shamane, Brett, and their adorable toddler, Ermias. The fusion of these three flames into a larger candle symbolised their unity as a family.
Another touching gesture was the blending of coloured sands. Shamane and Brett poured a glass bottle of sand each into a container, each grain represented them as unique individuals who have come together to form a harmonious whole, symbolising their continued journey together as husband and wife.
The stunning ceremony was conducted by a distant relative who acted as their celebrant which added to that family-feel the couple were fixed on to have throughout their big day. A cousin also recounted the fateful meeting of the couple at a local carnival, where a simple introduction sparked the beginning of their journey together as a brilliant couple.
If all of that wasn't enough to make this a tear-jerking, smile-stretching and intimate occasion, the entire gathering came together to sing Bob Marley's "Three Little Birds," to fill up Merrydale Manor's Ceremony room. It made such an impression on me that the song became my a regular on my playlist when editing the wedding photos.
Natural Photography at Merrydale Manor
After the ceremony, we were lucky that the rain (which had been pouring all morning!) had eased and we were able to head out into the stunning gardens and catch some daylight lake views for some relaxed wedding photography with Shamane and Brett. As a documentary wedding photographer, this is one of my favourite times of the day to capture the couple at their best: relaxed and alone together and enjoying a breather from the festivities. Ermias also joined us for some beautiful wedding photographs of this gorgeous and stylish family.
The rain had left some huge puddles which, in my opinion, adds some flare to my style of photography, such as giving me stunning reflections of the happy couple and a true record of the day which will stand out in their wedding album.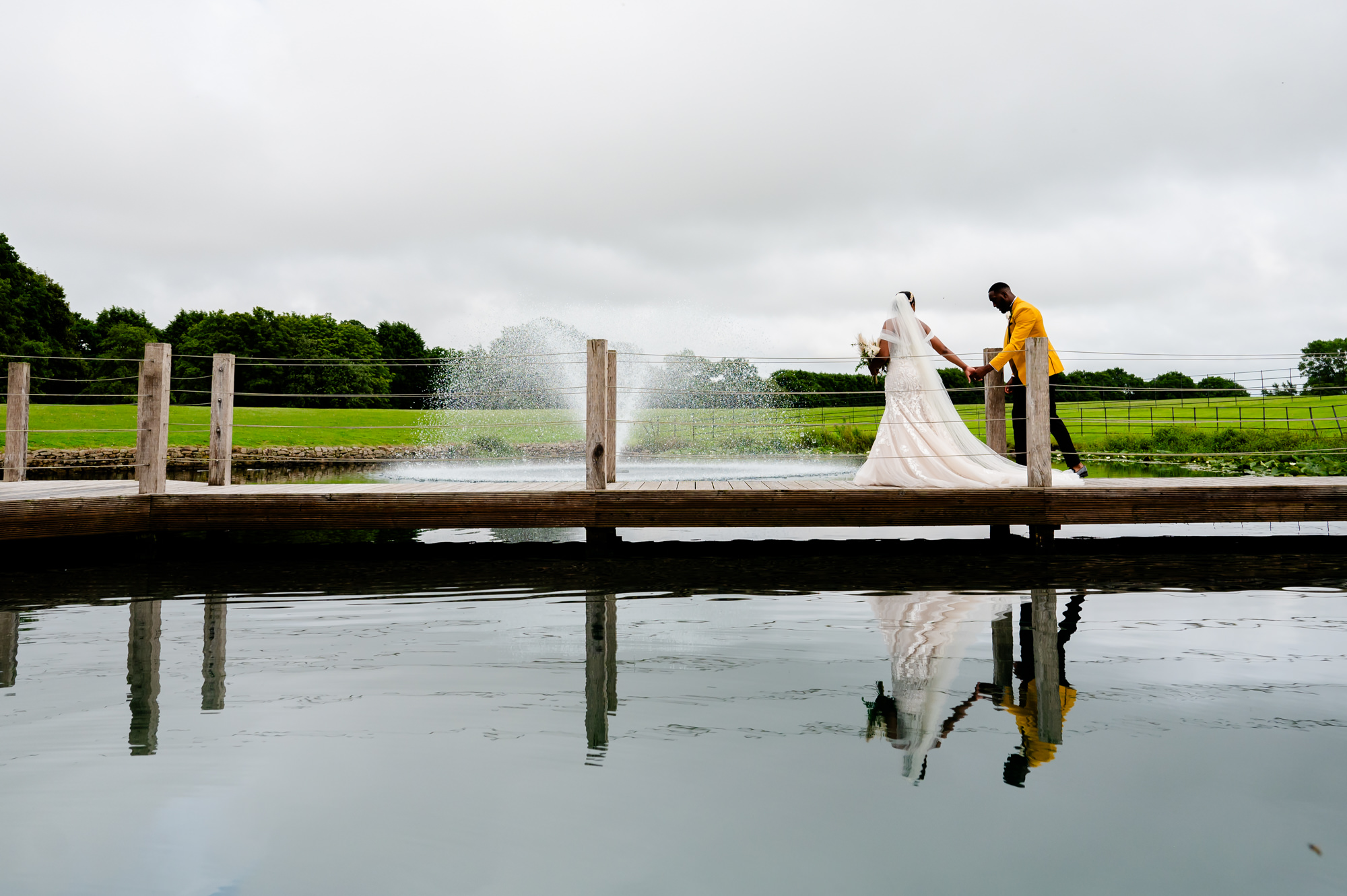 Caribbean Feast in Merrydale Suite
Everyone had worked up an appetite and I have to say that the reception was a culinary and auditory feast. Of course, Caribbean flavours adorned the buffet, with dishes like mutton and fish curry, jerk chicken, and an array of salads and rice. The evening was sweetened by a dessert buffet, courtesy of Frosted Layer Cakes, featuring an impressive donut wall, macaroons, and dessert pots.
Words of Wisdom and the Crazy Laugh
The cultural tradition of sharing wisdom was expressed through a series of speeches – a staggering 19 to be exact – from various family members. This custom, deeply rooted in Jamaican weddings, allowed relatives and wedding guests to offer insights and blessings for the couple's future.
Laughter echoed as the speeches flowed, with one speaker in particular – the groom's grandpa – reminded everyone where Brett inherited his infectious laughter from. The speeches were kept under the two-minute mark, except for the grandpa who had a lifetime of stories to tell and stretched his slot on for quite a bit longer!
The Party
As the sun set, the evening celebrations and energy fired up with a succession of DJs, each pumping out playlists of Jamaican tunes. The dance floor came alive as the wedding party really got going. I was amazed at how many of the guests had amazing break dancing skills, throwing shapes and themselves across the floor while the other wedding guests surrounded them and cheered and danced. This was a party to remember!
The Afro-Caribbean Wedding at Merrydale Manor was not just a celebration; it was a stunning expression of cultures, emotions, and love. Shamane and Brett's special day painted a vibrant picture of the unity and joy they clearly have, not just in their small family of three with Ermias, but also across their extended family and friends who were present to celebrate with them at the stunning venue of Merrydale Manor. As an experienced photographer, it's celebrations like these which stay with me and make me smile.
If you're making wedding plans and are looking for an experienced wedding photographer, please get in touch so we can discuss the best wedding photography package for you and your big day.
---