I was back at Sandhole Oak Barn to photograph my first wedding of the year in January. Emma and Adam didn't have to go far to find me as their wedding photographer because Adam is actually my accountant!
One day, I was discussing my books with Adam and he told me their story. He had met Emma 16 years ago on a night out in Stalybridge. The date just happened to be the 6th April – the new tax year – so it was a particularly memorable one for the couple! Tired of waiting for him to make a move, Emma proposed to him after 5 years using a chocolate heart with "Will You Marry Me?" written on it. Then began a LONG engagement period – around 11 years! When they finally decided to do it, COVID and its unpredictability meant that the couple had to postpone their wedding 3 times, adding another 18 months to the original date. Such a common thing these days for so many couples, sadly.
When Adam told me what they had in mind for their big day, I suggested that they take a look at Sandhole Oak Barn. Within two weeks, Emma and Adam had their venue and me booked as their wedding photographer! You can see my latest weddings at Sandhole Oak Barn here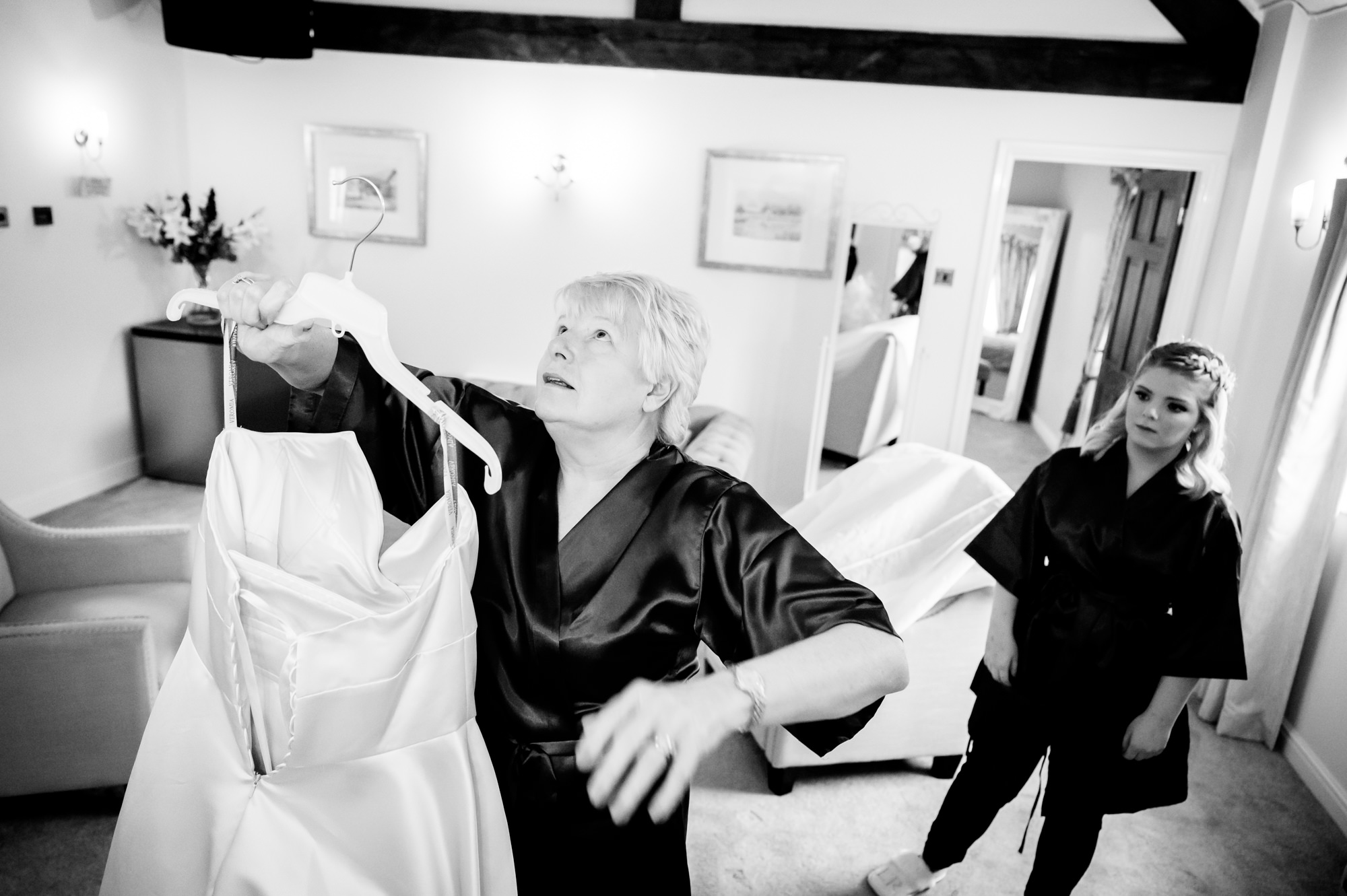 Warming Up the Wedding
Emma and Adam described their wedding as "overdue" and, because their original plans were for an autumnal wedding, the couple still decided to keep this colour scheme for their wintery January date. Reds, oranges and greens really warmed up the floral arrangements and leafy garlands were hung from Sandhole Oak Barn's exposed wooden beams in the ceremony room. All this paired with the wooden floors and fairy lights gave a cosy, rustic atmosphere. The wedding cake itself had impressive autumn leaves and vines made of icing twisting around its 3 tiers. Adam and Emma also chose to serve mulled wine alongside the Prosecco at the reception to warm up anyone who might have been feeling the chill of the cold Winter's day – a lovely touch!
Retro Humour
Speaking of lovely touches, what I particularly enjoyed about this wedding was that you could really get a sense of the couple in all the personal details they chose throughout their big day. You could tell that Adam and Emma not only had a great sense of humour but also great taste in television. For their order of service they had made a gossip magazine customised with their faces on the front. Also, the table names were titles of classic British sitcoms such as On the Buses, Only Fools and Horses and The League of Gentlemen. Even the old school Teletext font was used everywhere across the place names!
The First Dance – Finally!
Adam and Emma's "overdue" wedding meant that they finally got to have their special first dance as husband and wife. To make it extra special, they chose Kenny Rodgers' version of 'Lady', originally sung by The Commodores. They chose this because Adam's parents' first dance was to another Commodores song but they wanted to give it a Country twist because they are big fans of the genre.
Fun with Family
Details like that really showed that family was at the heart of this couple's big day and also another reason why it was so delayed. According to Emma and Adam, thanks to COVID, it was the first family get together in 2 years. To make it special for everyone, a creche had been booked to look after the little ones for a few hours. This meant that the adults could relax and have some fun on the dance floor while the children could get stuck into some Arts and Crafts and play with a load of toys.
I loved being a part of Adam and Emma's wedding and it was a great way for me to start my 2022 wedding photography. Although a long time in the making – their big day was well worth the wait and was a truly special event full of character and laughter.
---