When it comes to creating a truly personalised wedding, Hanbury Wedding Barn is the perfect venue. As a recommended wedding photographer at this picturesque location, I've had the pleasure of capturing other couples who chose to celebrate their love there. (Check out my other weddings at Hanbury Wedding Barn here!) Katherine and Jordan's wedding was a shining example of a DIY celebration filled with love, laughter, and unforgettable touches.
From the moment I stepped into the bridal prep room, I could feel the excitement in the air. Katherine and her bridesmaids were getting their hair and makeup done, preparing for the day ahead. They had taken the time to decorate the reception barn themselves, adding their personal touch to every corner. The rustic charm of the bare red brick walls and exposed timber ceilings provided the perfect backdrop for their vision.
Having everything conveniently located in one venue allowed me to capture all the special moments, including the groom's arrival. Jordan, accompanied by his groomsmen, made an early appearance to ensure the decorations were perfect. In a spontaneous twist, they even decided to practice their ceremony, complete with a practice run of the first kiss, with his best man. The enthusiasm and joy shared by the groom and his friends set the tone for the day.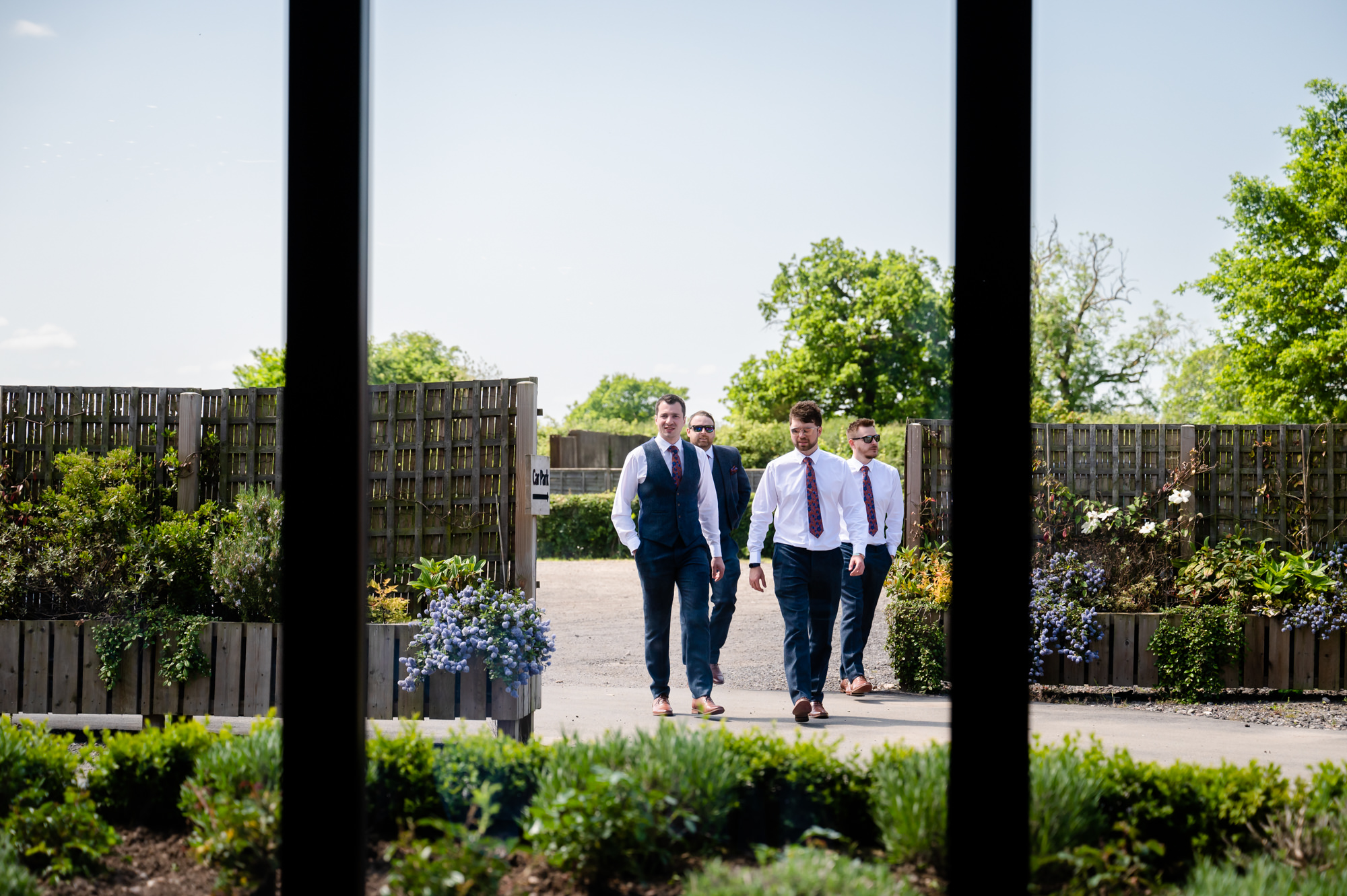 One of Katherine and Jordan's must-haves for their wedding was a barn feel, and Hanbury Wedding Barn delivered on that front. The spacious reception area provided ample room for a lively ceilidh, a key element they wanted to incorporate into their special day. They wanted their guests to have a memorable experience, and the barn's charm and open layout set the stage for a night filled with laughter, dancing, and joy.
Another essential aspect for Katherine and Jordan was having accommodation on-site, ensuring their guests could relax and fully enjoy the celebration. Hanbury Wedding Barn met this requirement, offering comfortable and convenient lodging options for everyone. Luckily, the last pod was delivered only a couple of weeks before their big day. Additionally, the couple wanted to ensure that older relatives felt included and comfortable during the evening festivities. With designated areas for seating, they could enjoy the celebration without feeling in the way, truly being a part of the joyous atmosphere.
Personalising their big day was important to Katherine and Jordan, and they took great care in incorporating meaningful details. Katherine had always envisioned simple yet effective decorations using dried and artificial flowers. Through thorough searching on platforms like eBay, Facebook Marketplace, and with the help of Hidden Botanics, they found the perfect dry flowers to bring their vision to life. Creative friends lent a hand, spray painting pallets and crafting cake bunting, adding an extra touch of personalised charm.
As for Katherine's wedding dress, it was everything she had envisioned. All lace, with a high neck and a captivating low back, it perfectly captured her style. Her choice reflected her desire for a dress with a higher neckline and an interesting or lower back, and she looked stunning in it.
Discovering the perfect wedding photographer is crucial for capturing the essence of the day, and Katherine and Jordan found me through Hanbury Wedding Barn's recommendation. They loved my laid-back style and attitude. We met at the Hanbury Open Day and our connection was immediate. I couldn't wait to capture their special moments through my lens.
The ceremony itself was everything they could have wished for. Jordan may have been a little nervous, but as soon as Katherine arrived next to him, his worries melted away.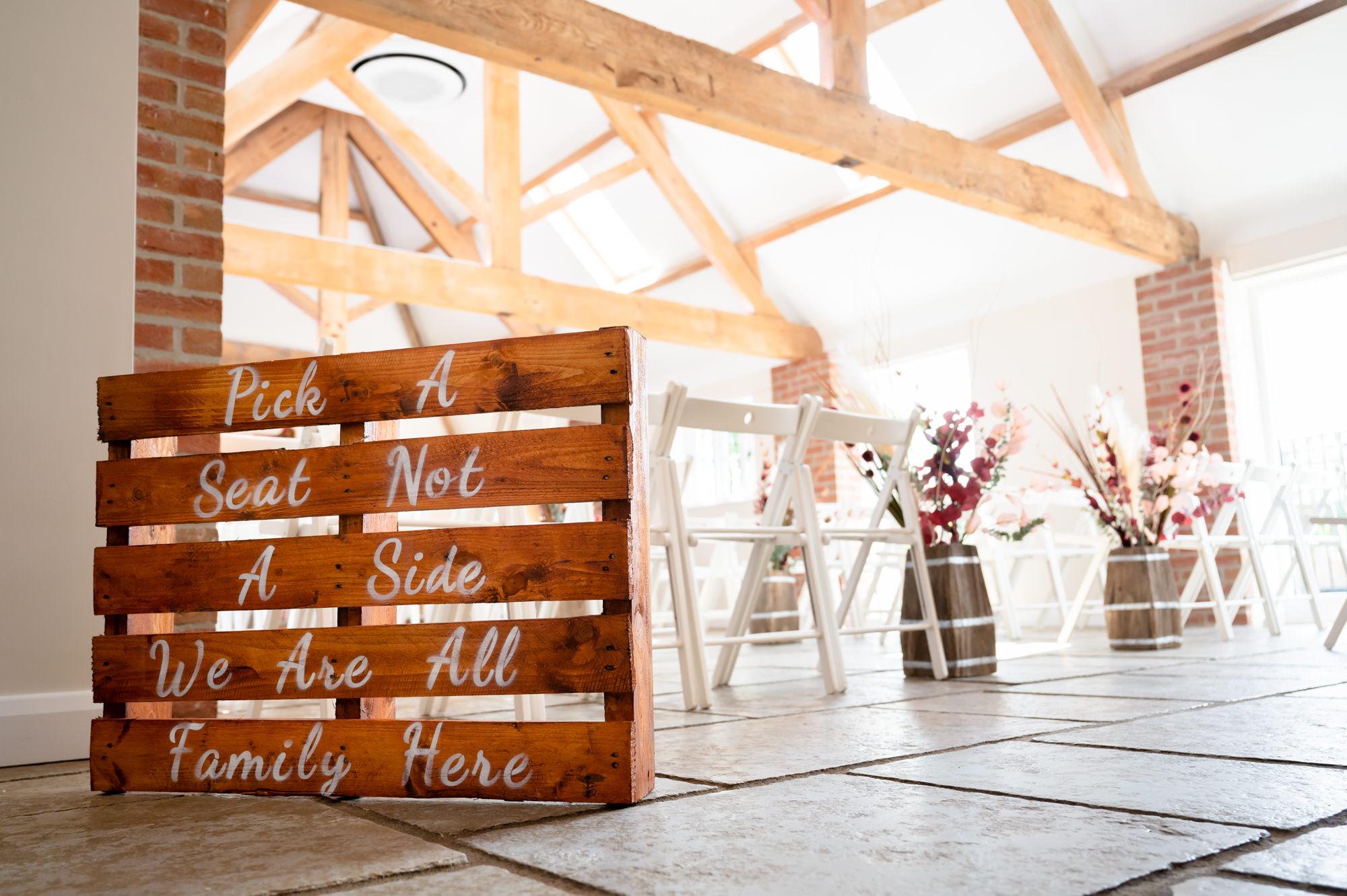 The drinks reception, speeches, and wedding breakfast were nothing short of perfect. With ample time for mingling, Katherine and Jordan ensured that their guests had a chance to relax and enjoy the celebration. The carefully chosen drinks and delicious canapés were a hit, setting the stage for an exceptional wedding breakfast. Trisha and the team at Green Door outdid themselves, presenting an amazing dining experience that left everyone impressed. The decision to leave the platters out during the speeches allowed the speakers to enjoy their meal once the stress was over, a thoughtful touch that ensured they didn't have to worry about nerves affecting their appetite.
The first dance was a non-traditional choice, as Katherine and Jordan danced to a song by Nickelback, a band they both love. The dance floor was soon filled with energy and excitement as they invited everyone to join in a lively ceilidh dance. The joyous atmosphere was infectious, and I made sure to capture the action shots, immersing myself in the midst of the celebration, even if it meant nearly being knocked over!
We were blessed all day with a beautiful blue sky and I knew this was perhaps a chance to capture Katherine and Jordan in the sunset. Taking advantage of the golden hour, I offered the bride and groom to escape the craziness of the dance floor to capture them once more in the stunning Hanbury backdrop sunset.
As the day unfolded, I couldn't help but appreciate their DIY wedding. From the personal touches to the charming barn setting, every element came together to create a truly personalised celebration of love. It was an honour for me to be a part of their day, documenting their unique journey at this picturesque venue.
If you're considering Hanbury Wedding Barn for your own special day, know that it offers the perfect canvas for bringing your vision to life. From the rustic charm of the barn to the convenient on-site accommodation, every aspect is designed to make your celebration unforgettable. Take a moment to explore my previous work at Hanbury Wedding Barn (click here!), and envision how your love story can be beautifully captured in this idyllic setting.
---