As a wedding photographer I get to see loads of different ways in which couples decorate their wedding venues and ceremony backdrops. Many of my favourites have been DIY weddings where couples have found creative ways to source and make their own wedding decorations. When I got married in 2017, my wife and I decided to choose this wedding style of DIY decor. From going through that, I learned some valuable DIY wedding ideas! So here are some tips which can help to ease your wedding budget but also make your big day a truly personalised event and a DIY project to remember!
Charity shops and car boot sales are your friends
You'd be surprised as to what treasures you can find at a bargain price if you go hunting in charity shops and car boot sales. Or, if you want to stay closer to home, you can search the many groups on Facebook which resell items in bulk. You can often find things like glass jars for tea lights and china cups or vintage books to get those DIY wedding decoration ideas flowing. For my wedding, we chose used copies of French and English dictionaries to hold the table numbers. They also doubled as conversation aids for our guests! Another bonus with second hand goods is that it is a more environmentally conscious way to decorate your venue, recycling and reusing items and giving them a second life. Then, when you're finished with them, return to a local charity shop or sell online.
Bouquets and Button Holes
You don't have to use real blooms for your wedding flowers, you can also make your own bouquets and buttonholes using paper, material, jewellery, buttons or even pine cones.
For my own wedding I made my wife's bouquet and the bridesmaids' using paper from vintage picture books we found in a charity shop. All I needed was some kebab skewers, a polystyrene ball to attach the flowers, some buttons and a lot of hot glue. This project took a few of our evenings but it was fun to spend that time together and certainly impressed everyone on the day. Not only this, but a bouquet not made of flowers will last a lot longer and you can resell it – that is if you don't want to display it as a souvenir of the day at home! If you do want to use real flower arrangements, then sourcing and putting them together yourself can be considerably cheaper.
Bunting
Do you have a keen knitter in the family or someone who's great with a crochet hook? How about someone who knows their way around a sewing machine? Why not ask them to make some bunting for you? You can then hang their creations around your wedding venue for a charming piece of DIY decor.
Wedding Stationery
Designing your own paper goods for your DIY wedding is another way for crafty couples to get creative. Making your own invitations, place names, order of service, menus and even a guest book can really add that finishing touch and nail your wedding theme. If you're not able to print items at home, you can use online printing companies to produce the separate elements before assembling everything together yourself, using your choice of papers and envelopes. Once out around your venue, these pieces add to the whole DIY decor.
Get a team together !
The secret to having a stress free DIY wedding is to recruit as many people involved and delegate as much as possible. Put someone in charge of the decorations, someone else in charge of the cake and another person dealing with the booze for example. Make a list of all the jobs that need to be done before and on the wedding day and assign the roles according to people's skills.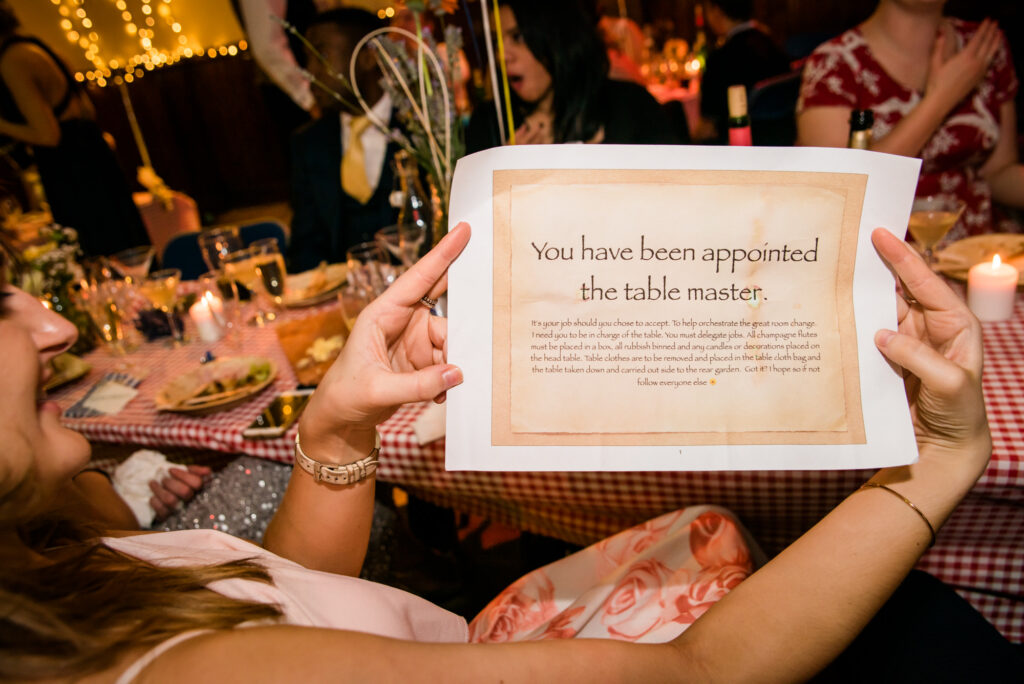 B.Y.O.B.
If you have booked a wedding venue which allows couples to bring their own booze such as a community centre or village hall then take full advantage and set up a space for your favourite tipples. You could save a corner for a gin bar, cocktail dispensers or, like me, hire a keg or two of local ales to add yet another personal stamp to the day. Just be sure to check whether the venue will charge you a corkage fee for taking your own bottles with you.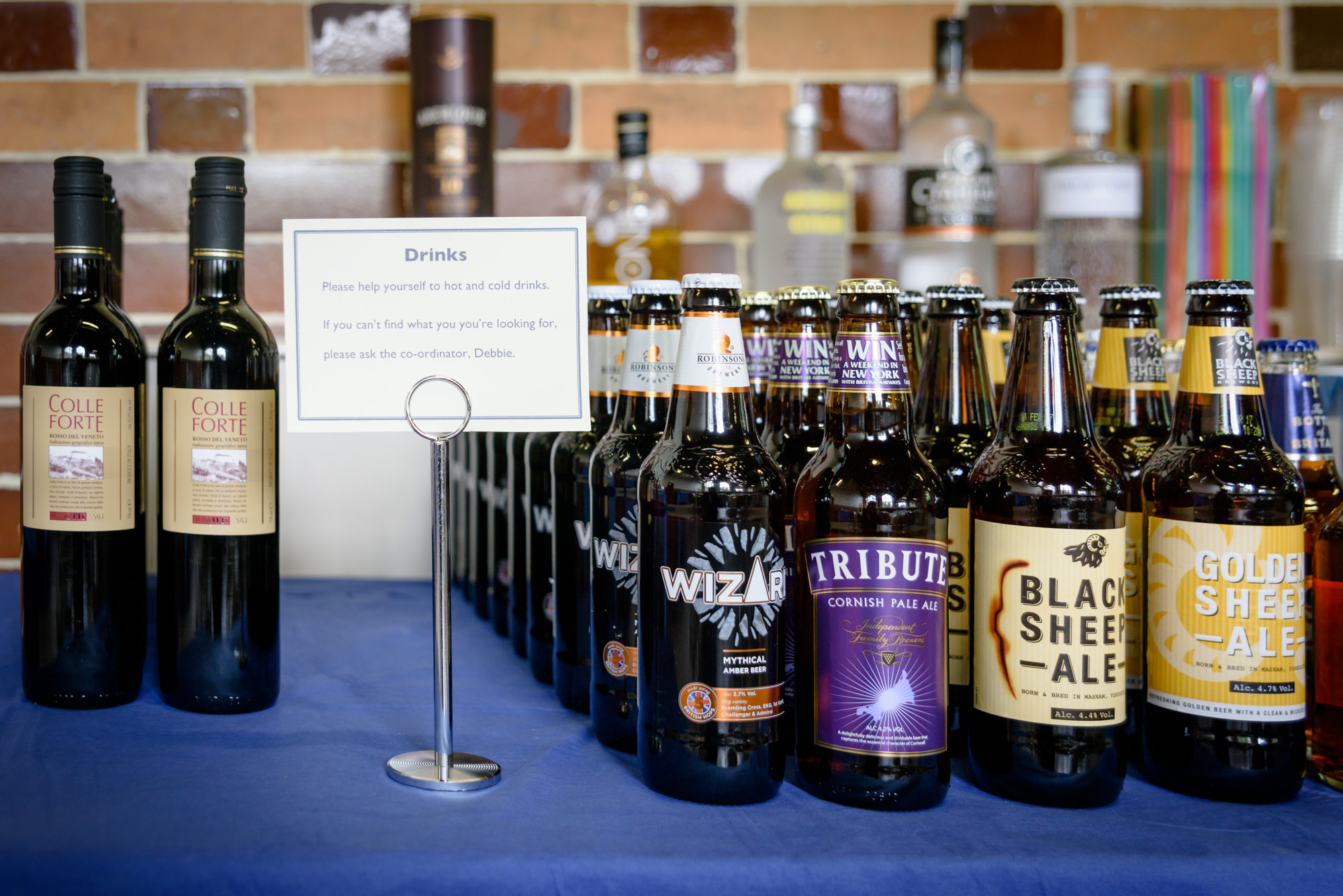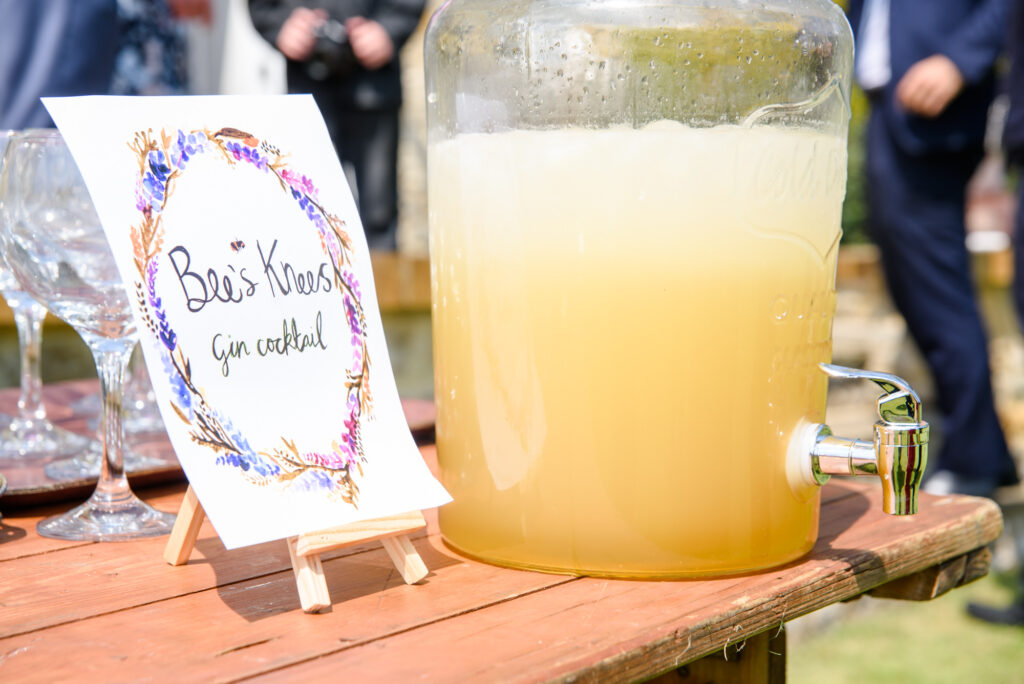 Food
To save some money on a per-head-price style of catering, couples could also choose to put their own wedding breakfast together. Some couples organise a BBQ, a buffet or even picnic baskets which can make the occasion more relaxed and personal yet still delicious.
Wedding Signage
Blackboards are a great and useful feature for DIY weddings. Use them to display anything from your menu to table plan. If you like the style, then go for a rustic look by using natural materials such as wooden palettes to direct guests and display the order of the day. Why not collect all the corks from those bottles of vino you've had in the lead up to the big day as well? You can print names on them or use them as place card holders.
Entertainment
Another element of wedding DIY is putting your own spin on the entertainment. One feature that works well for all ages is hiring a photo booth where guests together pose with silly props and print a strip of snaps to take home as a souvenir of your marvellous DIY wedding. As part of my service, I offer couples the rental of my own photo booth, Monsieur Click which guests can self operate and you can personalise the message and style of the prints they can take home. You can also choose to have two sets printed so you can get your guests to stick one of them into a guest book along with their messages. For more information on how you can hire Monsieur Click, visit this page.
Confetti
Buy your confetti in bulk! You can never have too much confetti but make sure you buy biodegradable ones rather than the plastic ones which are bad for the environment. If you feel like you have the time, why not dry your own blossoms and flowers and use the petals as an environmentally friendly option for your wedding confetti? You can be creative in what you store the confetti in on the day too. Find a cheap basket, suitcase or make your own paper cones to store it ready to be grabbed and thrown when the time comes.
Wedding cake
Do you have a star baker in the family who has watched every episode of Bake Off? If so, they might be up for the technical challenge of making your wedding cake! It doesn't have to be the traditional several tiered, iced cake either. You can go for a naked cake, a collection of cake pops or even a tower of cheeses! One of my couples decided to take the opportunity to create their own Bake Off, asking the guests to bring their best cakes to be displayed and enjoyed on the day. Not only did the guests have plenty of choice but the spread made an entertaining and delicious dessert bar!
Activity Packs for Kids
If you have children at your wedding then it might be a good idea to put together an activity pack for them and they're super easy to throw together. A small portion of sweets, some crayons and something to colour in can keep them occupied whilst parents are busy enjoying the meal and booze.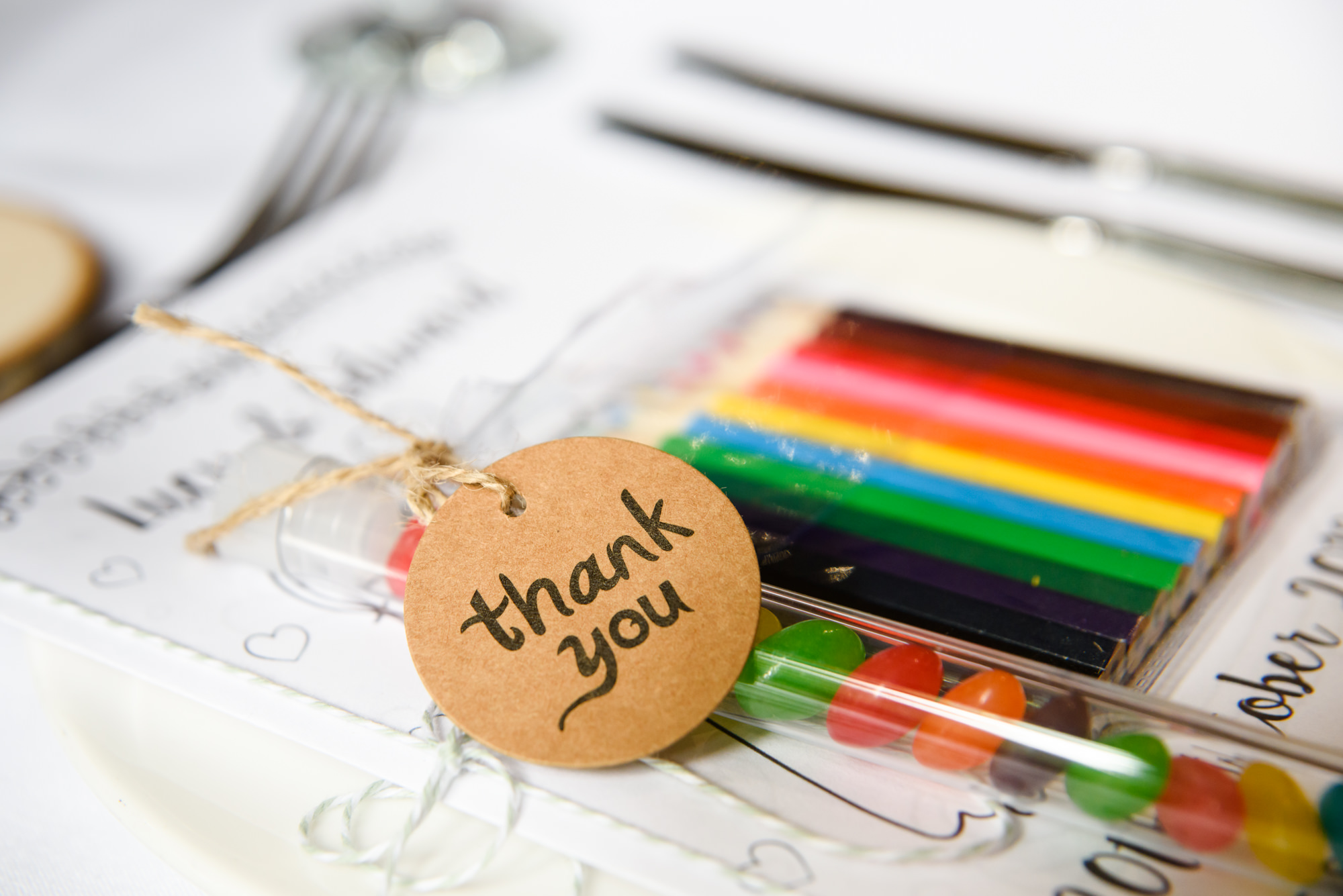 Backdrops
The couples I've met have truly thought of everywhere they can stamp their own brand of wedding DIY onto every space of their venue. For a photographer, this is a treat and creates stunning backdrops for the wedding photography. Some DIY wedding decoration ideas for this are balloon arches to match your wedding theme colours, hanging origami shapes from the ceiling, trailing fairy lights around the dance floor and adding wedding flowers to ceremony backdrops.
Transport
When it comes to thinking outside the box for wedding transport, there are multiple options beyond traditional wedding cars. You might have a friend or family member who has a quirky car such as a VW campervan, a Cadillac or a vintage Citroën 2CV or you can also find companies who will hire them to you for the weekend if you fancy driving it yourself.
Another option that a few of my couples have gone for is to opt for public transport. Fancy a double decker bus? Or why not call your local black cab company? Make sure you ask for a cab without the heavy advertising on the door. You may pay slightly more than a cab fare but they usually make sure the car gets valeted before and may decorate it for you if you ask.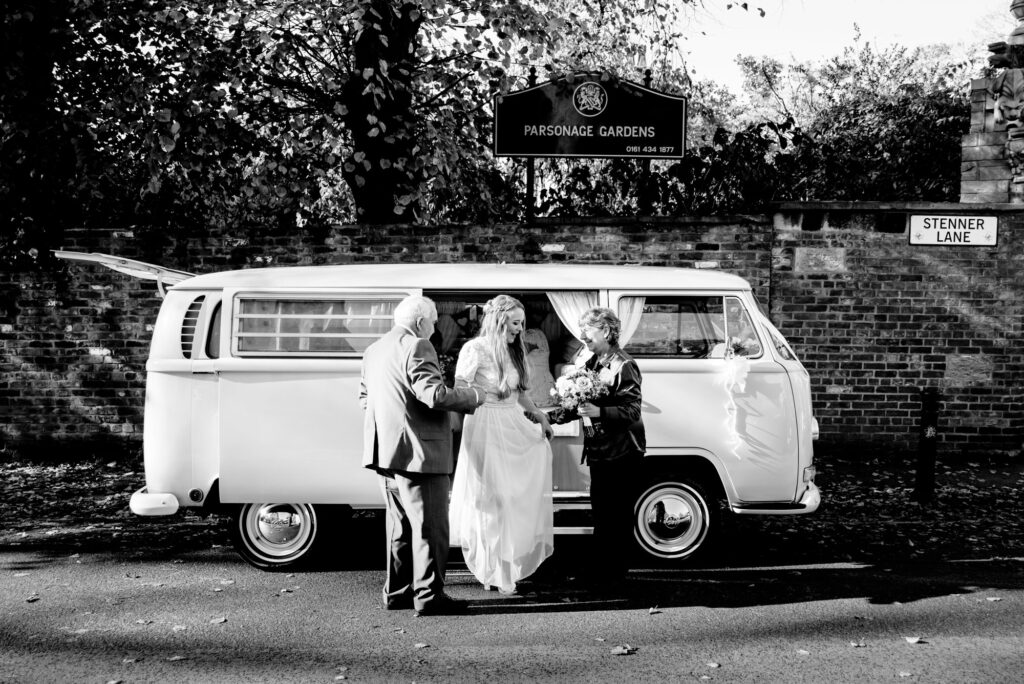 Wedding favours
You can make your own wedding favours reflect your own personalities and interests, as well as treat your guests to something special. This prep can be done a few months ahead of the wedding for a fuss free time on the day. Try filling simple jam jars with favourite sweets, your homemade roasted nuts or chocolate barks. One couple I photographed created little plant pots of herbs that they grew themselves as gifts – personal and practical!
Real Weddings
Take a look a some real weddings I photographed
If you need more inspiration, you can follow me on Pinterest. I've created board with the cool stuff I've seen when photographing weddings